For shits and giggles I Googled my blog yesterday and came upon a random review by some random jackass. Apparently, I suck because I use Blogger which sucks because it is connected to Google which sucks because…well, to be honest I zoned out a bit on her rant because it sucked. Note to self: eDee2.0 abhors anything associated with Google but who really gives a shit?
This won't win me any fans, but don't even get me started on the cut-throats over at Top Mommy Blogs. Do not, I repeat, DO NOT get in the way of the ladies hell bent on delivering a daily recipes along with a review of the latest and greatest in baby leashes on their quest to reach the coveted No. 1! Don't get me wrong, I've met some awesome and funny fellow bloggers there. Kitten at Mumsyhood and who doesn't love Jill at Yeah. Good Times.
I've never been entirely sure why I joined Top Mommy Blogs in the first place. Sure, I blog about my family but I'm more about the writing part as opposed to mommy blogging. I'm thinking it's time to say goodbye to Top Mommy Blogs and worry fine tuning my writing instead of trying to win a popularity contest. I already competed in high school. No offense to my fellow blogging friends who participate, I just don't think that some of my posts really fit that audience. I'm trolling for the right networking site for Narragansett No. 7.
So where does one go to network your blog when you are a mommy who happens to write? For starters, I'd recommend For The Love of Blogs. There are a whole bunch of different blogging niches there and one is dedicated to writers!
I like that For the Love of Blogs frowns on the "follow me and I'll follow you" bullshit. I want people to follow me because they enjoy reading my words, not because they're trying to collect a large number of followers. Mostly, I've found a really supportive community of people at FTLOB.
If you have a chance, go check out some of my favorites and friends. Take a minute to introduce yourself. This is a fantastic group of women, every one of them is both talented and supportive. They've taken the time to read my blog and comment with thought. So thank you, friends! I don't always have the time to comment when I stop by and I hate writing something that sounds as if I haven't taken the time to read your words or admire your beautiful photography, but I do.
Of Woods and Words – If I lived in Ada's neck of the woods, I'd stalk her and make her be my friend. She is an incredible writer. A real writer. Maybe she doesn't know, but some days she inspires me.
Mommy used to be so pretty…. Her blog's name made me giggle one day. Then the banner on her blog made both me and my husband chuckle. Another talented writer who keeps me coming back with her humor and touching posts. Check out her recent post titled "and a naughty girl too…"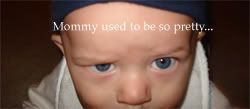 Rub Some Dirt On It I think she might just be my northern New England soul sister. It seems that her talent never ends…she's obsessed with french fries and a blue barn door. She lives in the middle of nowhere, with lots of snow and dirt roads. I "get" her.

Midnight Oil Momma
. I really like how she writes, her twins share my birthday and she makes a killer meatloaf! I can't wait to read more.
Another Cookie, Please! What can I say about Patty… I've known her for nearly 20 years but didn't really get to "know" her until we started blogging this year. She's been one of my biggest supporters, she's boosted my self-esteem and encouraged me to chase a dream. She's made me laugh for a long time and now she inspires me. Patty took time out of her busy life to write me a recommendation for graduate school without hesitation. Thank you, friend. On a side note, she has also had the pleasure of waxing my nether-regions ..isn't she lucky?
Tales of a Hockey Wife makes me laugh. Without fail, she provides me with at least one chuckle per post. Her hockey mask photos are genius. She is training to be a Zumba instructor and pole-fitness classes. She shares my love of singling out annoying people and writing funny blogs about them, only she's smart and does it anonymously.
Chicken Noodle Gravy I am completely addicted to the comfort of Chicken Noodle Gravy. Katie whips up some delicious posts. Her writing style is really engaging and keeps me going back for more. I'll be honest, I just discovered Chicken Noodle Gravy about two weeks ago, but Katie is an instant favorite. She shares the dream to be published. I think she's on her way.
My 3 Little Birds Yet another recent discovery and instant favorite! She is an aspiring writer too. Do you notice a theme here? I can't get enough of My 3 Little Birds. We kind of stumbled upon one another over a shared blog title. "Crack is Whack!" What can I say, she had me at crack.
The Fancy Flea. Amazing photography of her beautiful country/life/random moments. She loves books. I love her.
The (Not Always) Happy Homemaker Diary. Missy has been a constant reader for a while. She never fails to comment and always manages to take the time to say hello via Twitter. I'm so bad at Twitter. I think Missy might be the only person who really talks to me there. We share many similarities and have both spent time lamenting over them. Sometimes it's nice to know that you aren't alone in the world.
Rancher Mom's Realm makes me laugh a lot. It doesn't matter if she's commenting at my blog or if I'm reading hers. I giggle. She's real. Her posts are genuine and I like when other women drop F-bombs as much as I do.
" />
OK in UK has the best sense of humor ever. I love Mollie. There, I said it. I think I'm weird until I go to her blog and then I realize that I'm not alone in the world. It's the rest of the people who are weird and not funny. If you're normal, Mollie will make you laugh. She will also entertain you with her talent for writing. Run..run to to her blog!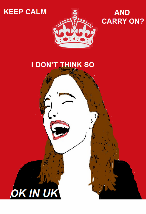 I didn't forget anyone. I'm tired and I have a raging sinus infection so if I didn't give you a shout out please don't be angry with me. Take pity on me and my bum sinuses. I still love you. I do, really…I do. I'm simply jacked up on pinot grigio and NyQuil Sinus PM and should probably stop before this takes a turn toward freaky.